...
Section
Column
Requires Phoenix 3.11.00 Official Release and V-Ray Next Official Release for 3ds Max 2015 at least. You can download official Phoenix and V-Ray from https://download.chaos.com. If you notice a major difference between the results shown here and the behavior of your setup, please reach us using the Support Form.
The instructions on this page guide you through the process of using the Phoenix Particle Texture  to shade a particle simulation with Phoenix in 3ds Max.
The Download button below provides you with an archive containing the scene file.
UI Button
| | |
| --- | --- |
| size | large |
| icon | download |
| title | Download Project Files |
| url | https://drive.google.com/uc?export=download&id=1COJqpvGWvv3U4noCAbIxHoMaiu-j8xr- |
Column
Align
HTML
<iframe width="800" height="450" src="https://www.youtube.com/embed/yp23FIvr6Yk?version=3&loop=1&playlist=yp23FIvr6Yk" frameborder="0" allowfullscreen></iframe>
Units Setup
---
Section
Column
Scale is crucial for the behavior of any simulation. The real-world size of the Simulator in units is important for the simulation dynamics. Large-scale simulations appear to move more slowly, while mid-to-small scale simulations have lots of vigorous movement. When you create your Simulator, you must check the Grid rollout where the real-world extents of the Simulator are shown. If the size of the Simulator in the scene cannot be changed, you can cheat the solver into working as if the scale is larger or smaller by changing the Scene Scale option in the Grid rollout.
The Phoenix solver is not affected by how you choose to view the Display Unit Scale - it is just a matter of convenience.
Go to Customize → Units Setup and set Display Unit Scale to Metric Centimeters.
Also, set the System Units such that 1 Unit equals 1 Centimeter.
Column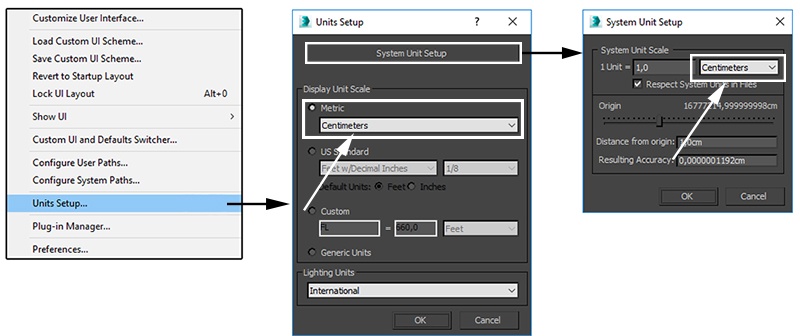 Scene Layout
---
...