...
Section
Column
Add LightMix to the render elements to make this mode available. Alternatively, add LightMix from inside the VFB. Click on the Add LightMix to the scene option. Start a new render to apply the changes.
When the Source is set to LightMix, you can enable/disable lights and adjust light intensity and color during and after the render. The modifications can be saved as light mix presets and reused. Start a new render and VRayLightMix automatically creates Environment and Self Illumination render elements. Find out more about how VRayLightMix work here: www.chaosgroup.com
Reset – Resets all changes made to default values.
Save – Saves the changes as light mix preset.
Load – Loads a light mix preset.
To Scene – Applies the current VRayLightMix changes to the scene. This sends all changes to colors/intensities back to the scene lights.items (except the items which were left out in Rest). This option is only available when the render has stopped.
To Composite – Sends the Light Selects from LightMix to Composite for additional post adjustments.
Recent – Shows a list of recent light mix presets.
Checkbox – Enables/Disables the selected light.
Multiplier – Specifies an intensity multiplier.
Color Slot – Specifies a color multiplier for the selected light.
UI Text Box
Alt+Click on a light checkbox turns off all other lights except the currently selected one.  
UI Text Box
With V-Ray 6, update 1, instanced lights by VRayInstancer / Forest Pack / Rail Clone, etc. are part of the Light Select RE of the respective source light.
Column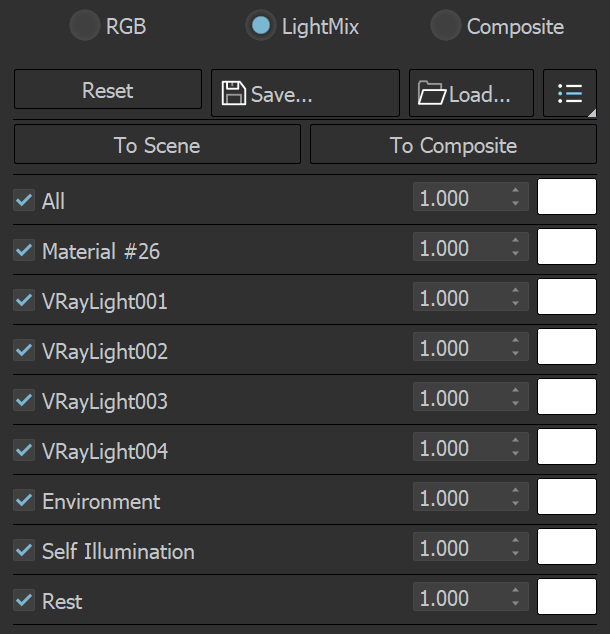 ...