This page gives an overview of the Phoenix UI integration into Maya.
Overview
---
Chaos Phoenix is a Fluid Simulation plug-in that integrates with the Maya user interface. Menu options, dialog windows, and parameters flow logically from the familiar Maya tools to make using Phoenix a seamless experience.
In order to use Phoenix, you must first enable it in the Plug-in Manager. Go to Window > Settings/Preferences > Plug-in Manager. For the phoenixfd.mll option, enable the Loaded checkbox to load Phoenix manually. If you want Phoenix to load automatically every time Maya starts, enable the  Auto load option.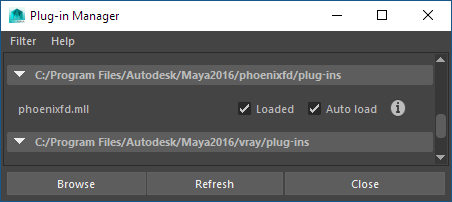 Integration
---
Phoenix integrates with Maya in the following ways:
Menu Integration - Phoenix adds a number of items to the Phoenix FD Menu in the Dynamics menu set. It exposes most of Phoenix's functionality in one place.
Phoenix Shelf - Phoenix includes a shelf with easy shortcuts to some of the most commonly used Phoenix components.