This page provides information on how to uninstall V-Ray using the included V-Ray uninstaller.


Overview
---
The V-Ray installer automatically uninstalls any previous versions before installing a newer version. If you need to manually uninstall V-Ray, please make sure that 3ds Max or V-Ray components are not being used. For silent uninstallation, see the Silent Install and Uninstall page. 
Uninstalling V-Ray
---
The Uninstaller originally resides in the following location - C:\Program Files\Chaos Group\V-Ray\3dsmax 20xx\uninstall
To access the V-Ray uninstaller from the Start menu, search for Uninstall V-Ray 3ds Max 20xx.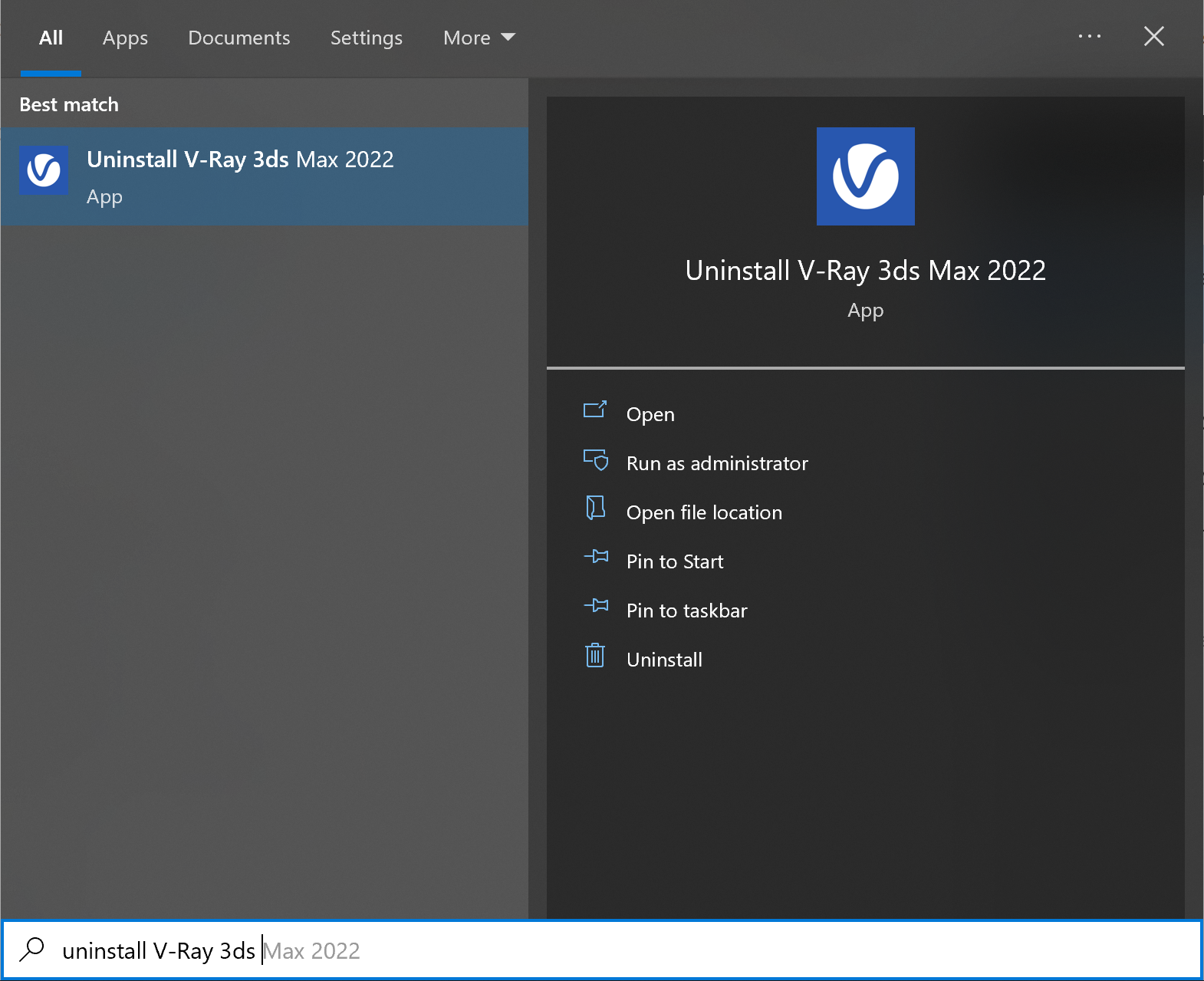 This starts the V-Ray uninstaller. Follow the on-screen instructions to remove V-Ray from your system and restore any files overwritten by the installation.
Leftover Files
---
After the uninstall is complete, there may be some leftover files that you need to delete. Please check if the following files and folders are present and delete them:

Location
Files and Folders to delete

For V-Ray Next 4.*

For V-Ray 5.0

For V-Ray 6.0

3ds Max Root Folder

vray.dll




vray20xx.dll




vraydummy20xx.max




vraydummy20xx.xml




vrayopenimageio.dll




vrayosl.dll




vrayspawner20xx.exe




vray_http_client.dll




vray_optix_denoiser.dll




vray_telemetry.dll

 
 

3ds Max root folder \plugins

\vrayplugins folder 




vrayraw20xx.bmi




vrender20xx.dlr

 
 

3ds Max root folder \scripts\Startup

vrayinstall.ms




vraylightlister.ms




vraymtlexport.ms




vrayquicksettings.ms




vrayutils.ms




vrsceneexport.ms




vrvismatconvertor.ms

 
 
 
 
Environment Variables
Environment Variables
 
 
VRAY5_FOR_3DSMAX2021_MAIN=C:\Program Files\Chaos Group\V-Ray\3ds Max 20xx/bin
VRAY5_FOR_3DSMAX2021_PLUGINS=C:\Program Files\Chaos Group\V-Ray\3ds Max 20xx/bin/plugins
VRAY_MDL_PATH_3DSMAX2021=C:\Program Files\Chaos Group\V-Ray\3ds Max 20xx\mdl
VRAY_OSL_PATH_3DSMAX2021=C:\Program Files\Chaos Group\V-Ray\3ds Max 20xx\opensl
VRAY_SEND_FEEDBACK=1
VRAY_FOR_3DSMAX2021_MAIN=C:\Program Files\Chaos Group\V-Ray\3ds Max 20xx/bin
VRAY_FOR_3DSMAX2021_PLUGINS=C:\Program Files\Chaos Group\V-Ray\3ds Max 20xx/bin/plugins
VRAY_MDL_PATH_3DSMAX2021=C:\Program Files\Chaos Group\V-Ray\3ds Max 20xx\mdl
VRAY_OSL_PATH_3DSMAX2021=C:\Program Files\Chaos Group\V-Ray\3ds Max 20xx\opensl
VRAY_SEND_FEEDBACK=1
The following files do not interfere with 3ds Max's operation, but in case they need to be deleted, here is where they reside.

3ds Max root folder \scripts\V-Ray




3ds Max root folder \UI_ln\Icons

VRayToolbar_16a.bmp




VRayToolbar_16i.bmp




VRayToolbar_24a.bmp




VRayToolbar_24i.bmp

 
 

3ds Max root folder \UI_ln\IconsDark

VRayToolbar_16a.bmp




VRayToolbar_16i.bmp




VRayToolbar_24a.bmp




VRayToolbar_24i.bmp

 
 

For V-Ray 5.0:  C:\Program Files\Chaos Group\V-Ray\3ds Мax 20xx

Start Menu Shortcut Locations:

For V-Ray 5.0: C:\ProgramData\Microsoft\Windows\Start Menu\Programs\V-Ray 5 for 3ds Max 20xx

For V-Ray 6.0:  C:\Program Files\Chaos Group\V-Ray\3ds Мax 20xx

Start Menu Shortcut Locations:

For V-Ray 6.0: C:\ProgramData\Microsoft\Windows\Start Menu\Programs\V-Ray 6 for 3ds Max 20xx