This guide serves as a reference for the installation of V-Ray Personal Learning Edition (PLE) for Maya.
Obtaining V-Ray PLE for Maya
---
Follow the steps below to get V-Ray Personal Learning Edition (PLE) for Maya license and download the product.
If you have already registered for V-Ray PLE for Maya and need to download the installer again, follow the link. 
Creating your account
---
To apply for V-Ray Personal Learning Edition (PLE) for Maya, Sing in to your chaos.com account.

If you don't have an account already, press the Create Account button to register with chaos.com.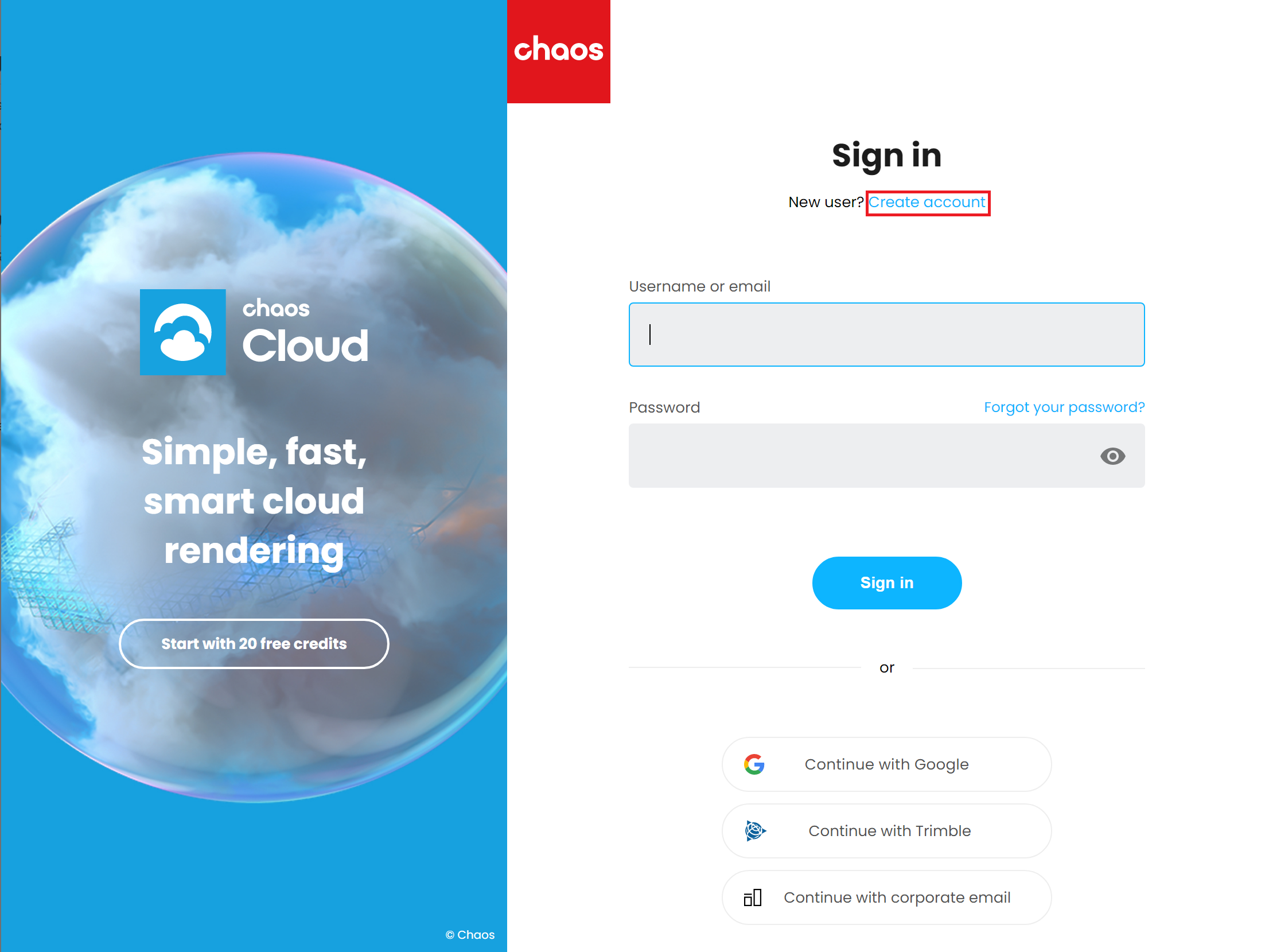 Downloading V-Ray PLE for Maya
---
After you sign in to chaos.com, press PRODUCTS and choose V-Ray for Maya from the drop-down menu.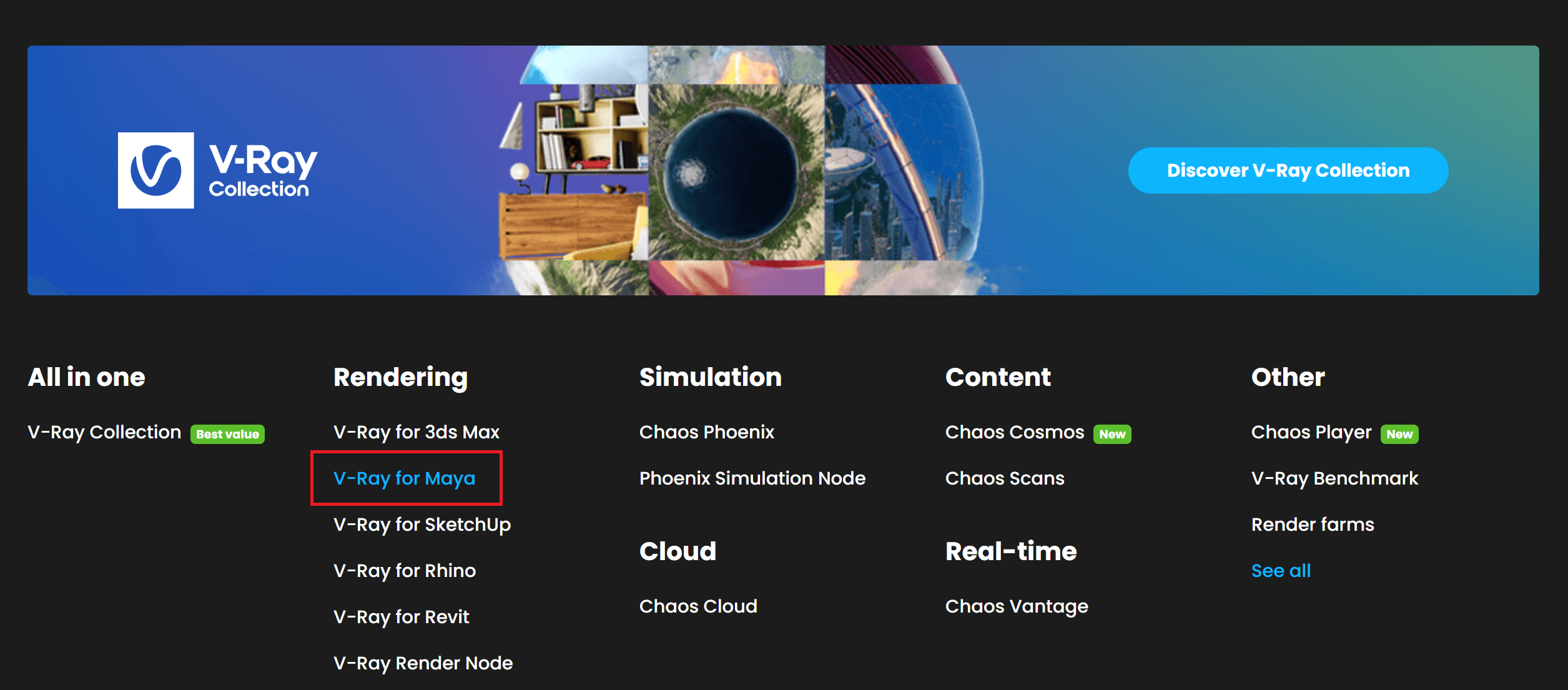 Scroll down to the V-Ray Personal Learning Edition for Maya section and press GET STARTED.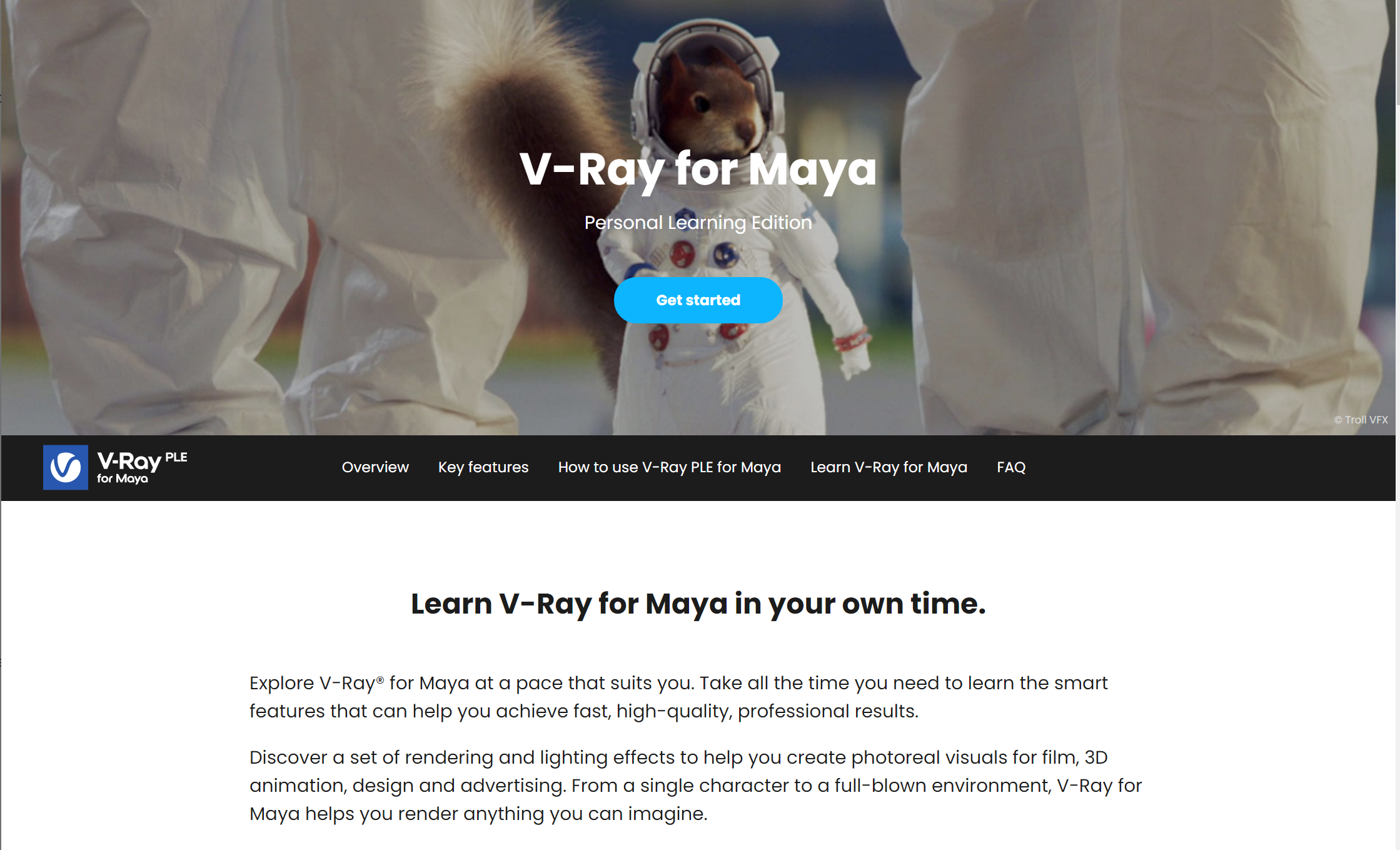 A new window will open. Select how you will use the product and press START NOW.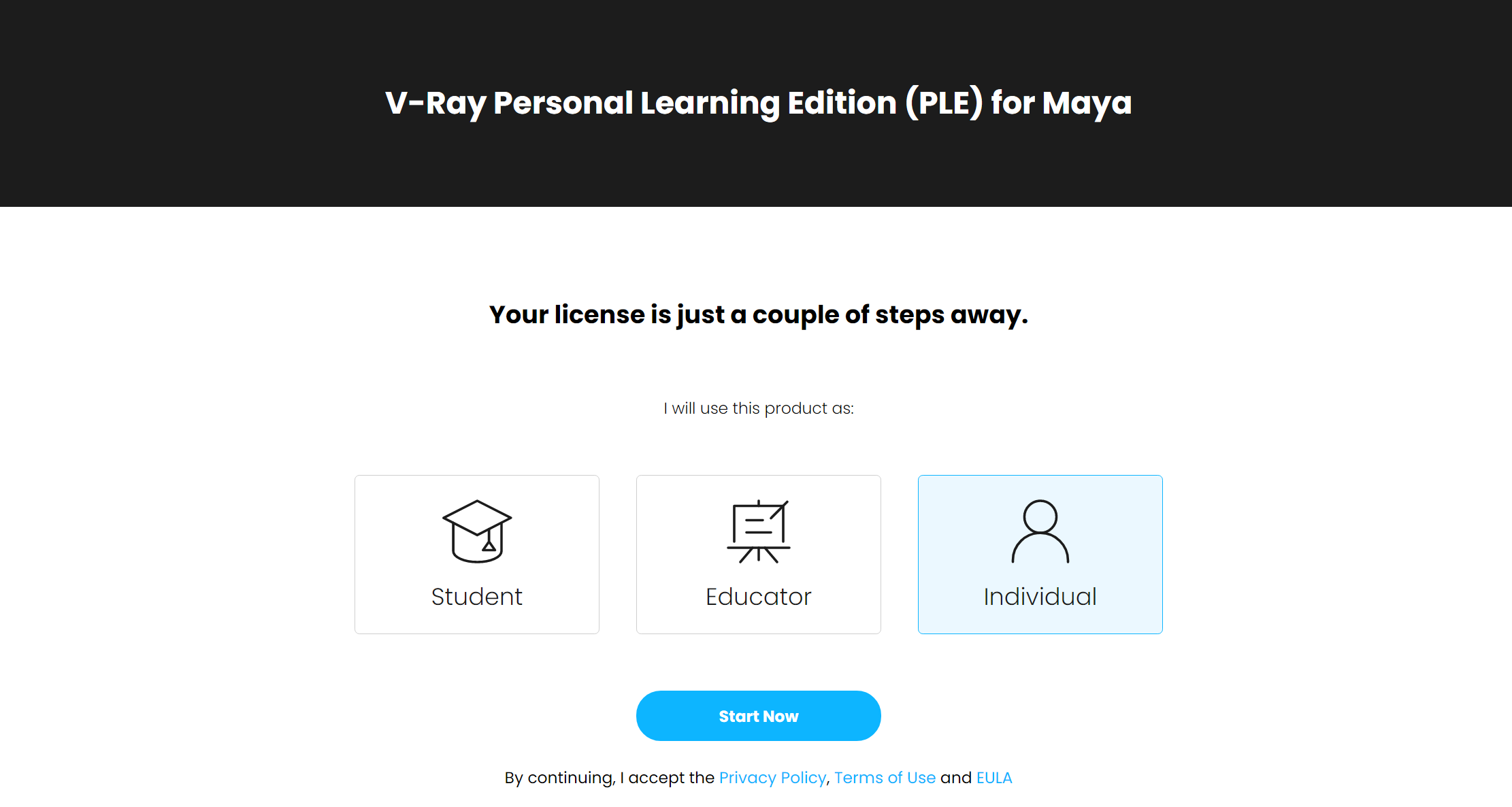 Once your request is processed, you will see a "Thank you" message and a Download Now link to access the product.

Select the version you need to download for your operating system and install it. For more information on how to do it, see the Installing V-Ray PLE for Maya section below. You can also download the license from my.chaos.com → Products → Active Products.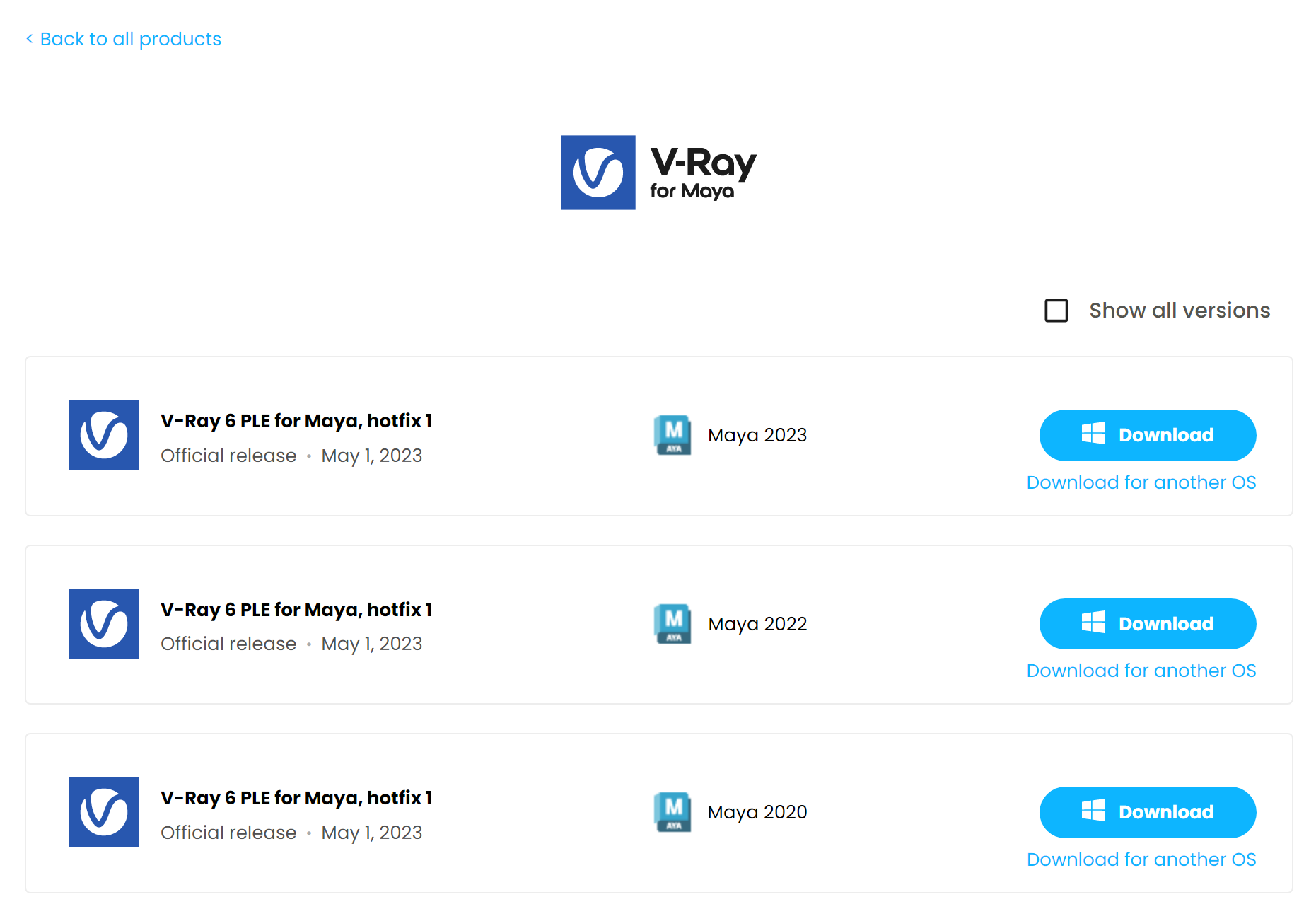 Installing V-Ray PLE for Maya
---
To complete the installation, follow the steps below.
1. You will be presented with the V-Ray licensing agreement. Please take a moment to review the agreement. Check the I accept the Agreement checkbox and click Install to proceed. 
If you need to customize your V-Ray installation, press the Advanced button.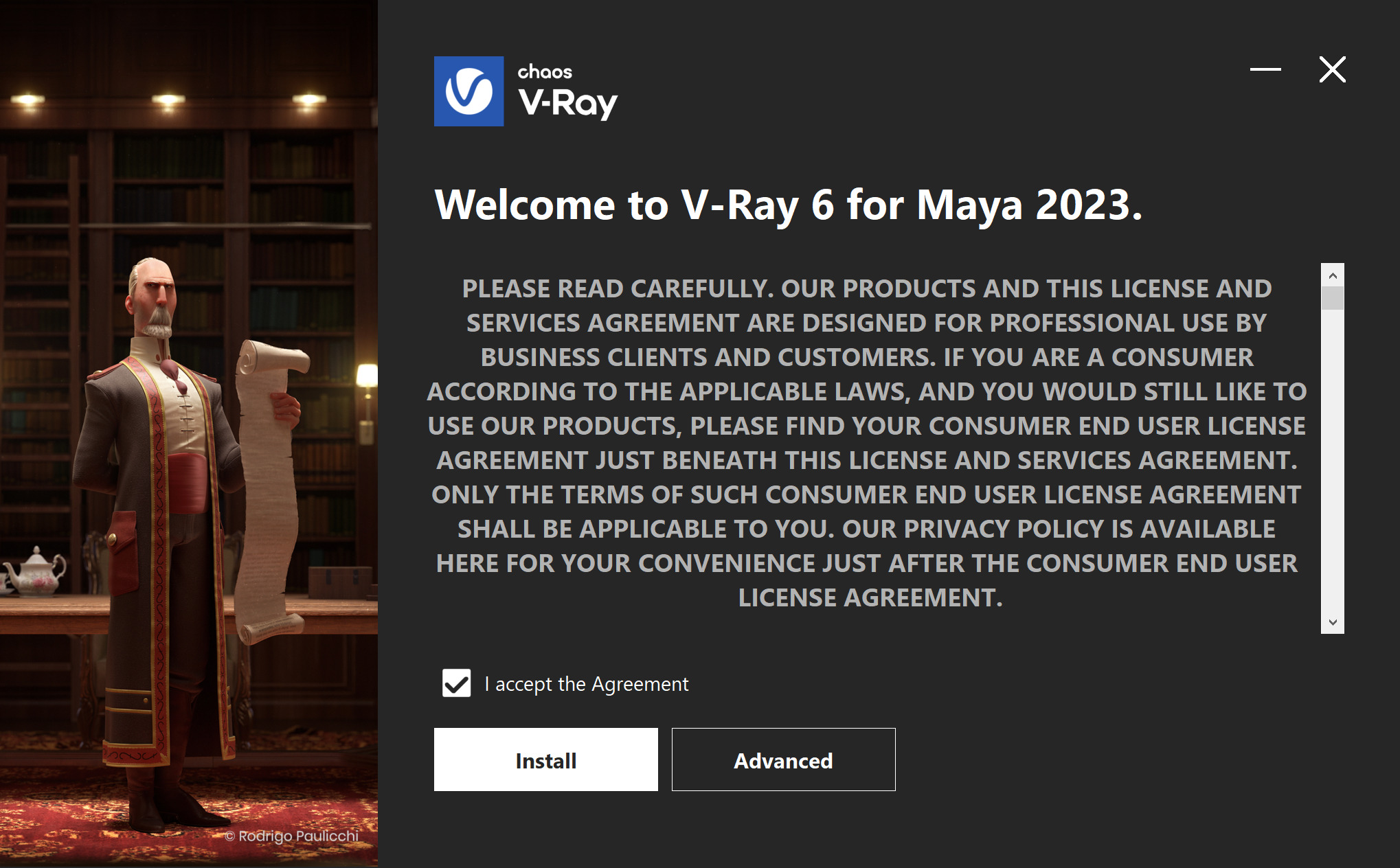 Click here to see the Advanced installing options...
Directories
Here you can specify the installation paths. Please check if the default folders are correct.
Download V-Ray material library – When this option is enabled, at the end of the V-Ray installation you also download the latest version of V-Ray Material library. For more information about V-Ray material library, see the V-Ray Material Library Browser page.
Help make V-Ray even better – Participate in the improvement decisions for future version of V-Ray. No intelligence property is violated when agreeing to participate in the feedback program. We do not gather scenes, assets, materials, etc. What we receive is user preferences on just a few key render settings and the resulting render times. The point of this feature is to improve V-Ray's performance and the user experience. This preference can be changed at any time later on from the V-Ray Render Settings > Settings > About V-Ray > Feedback program settings. For more information, see the Chaos Telemetry page.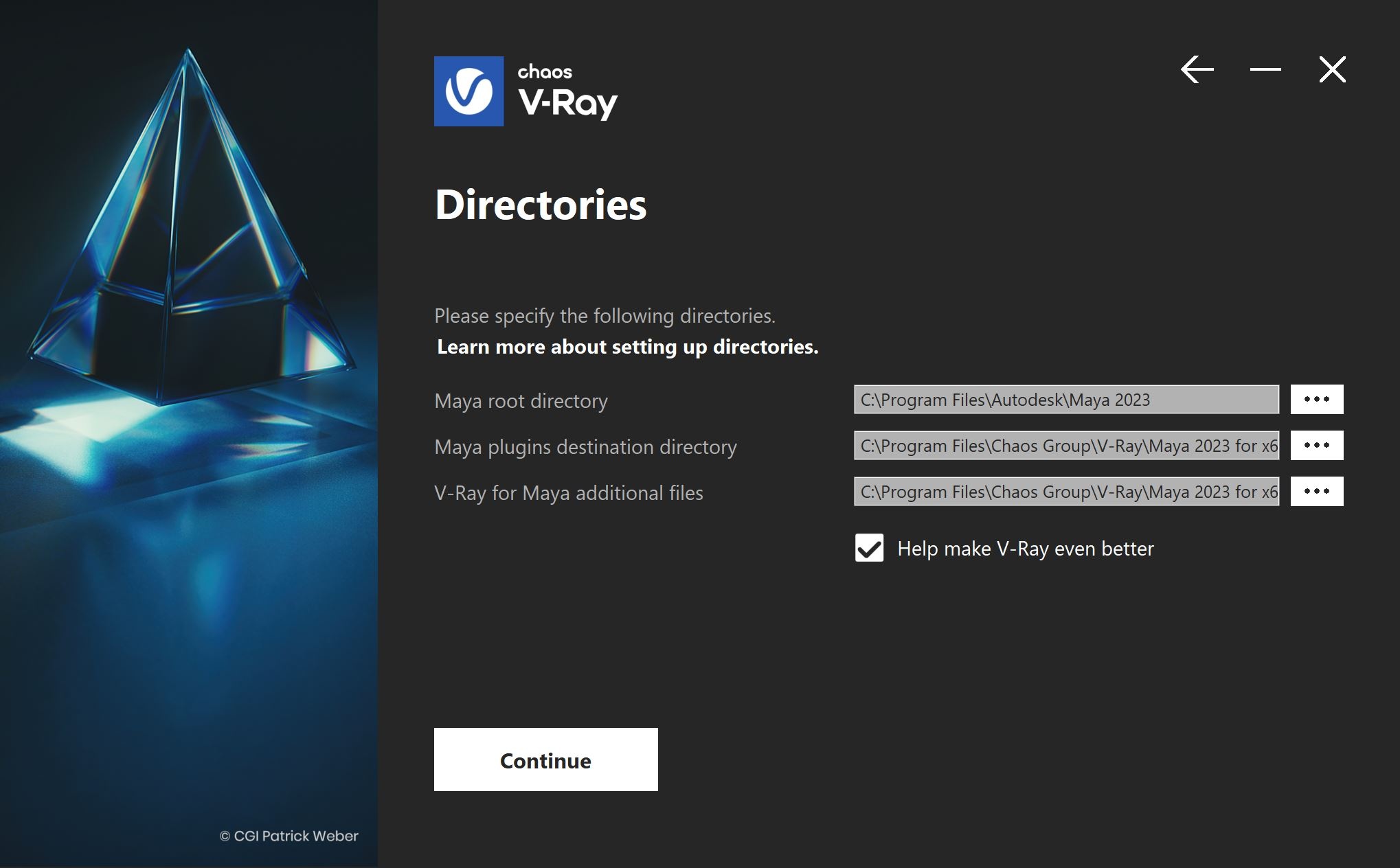 Chaos License Server Options
At this step you can choose the license server directory.
Migrate data during installation – When enabled, transfers all of your settings made with older versions of the License Server, such as enabled dongle subsystem, proxy settings, etc. Disabling this option will install License Server with all settings at their defaults and any custom settings from the previous installation will be lost.
Add firewall exception –  Enabling this option allows the default licensing port (TCP 30304) in the firewall. If you disable it at this step, you will need to manually add firewall exceptions later.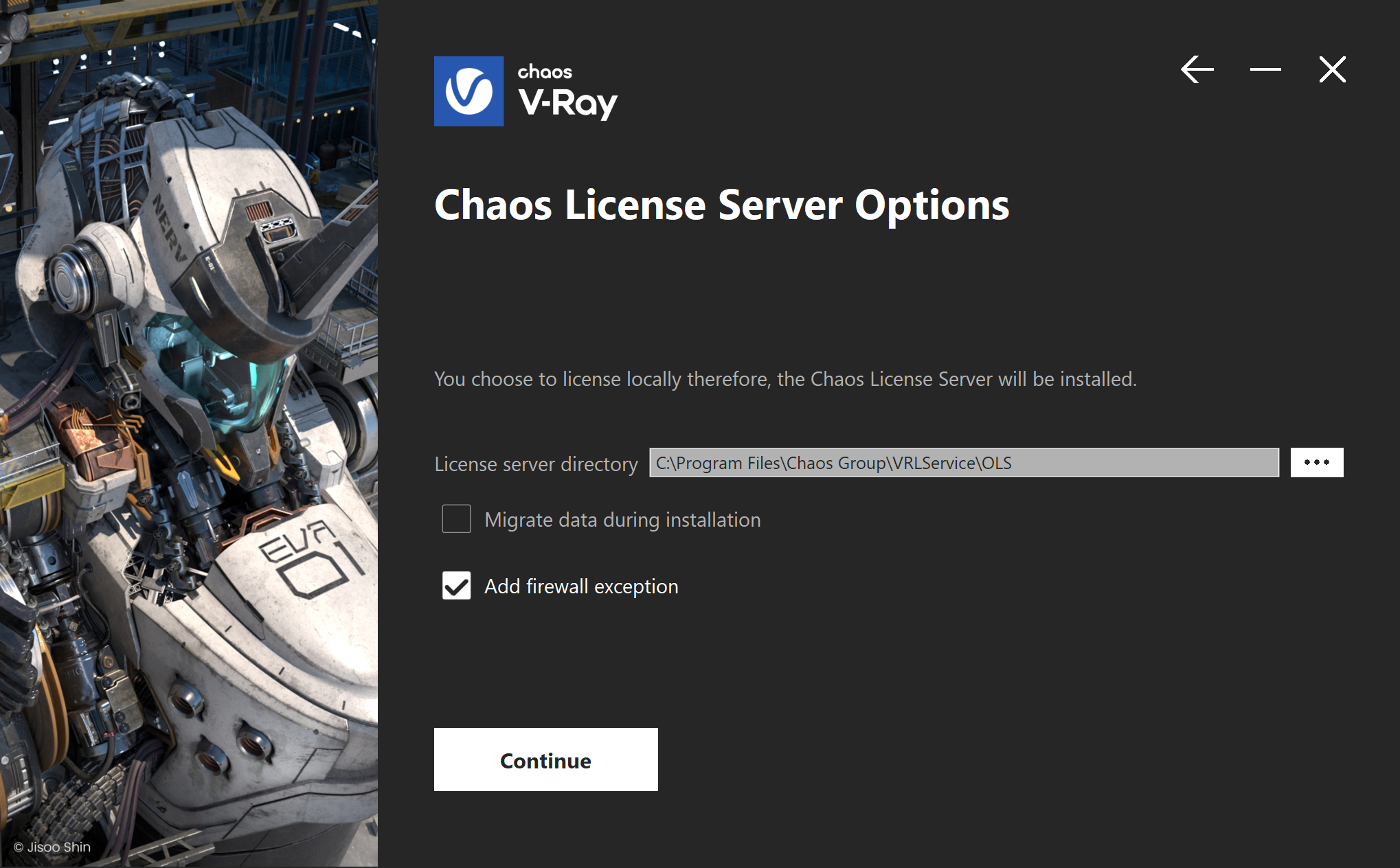 2 After you click the Install button, the installer will proceed to uninstall any previous versions and install V-Ray on your machine.
If the installer detects any applications that need to be closed, they will be listed before being able to continue. Please close them and click Continue.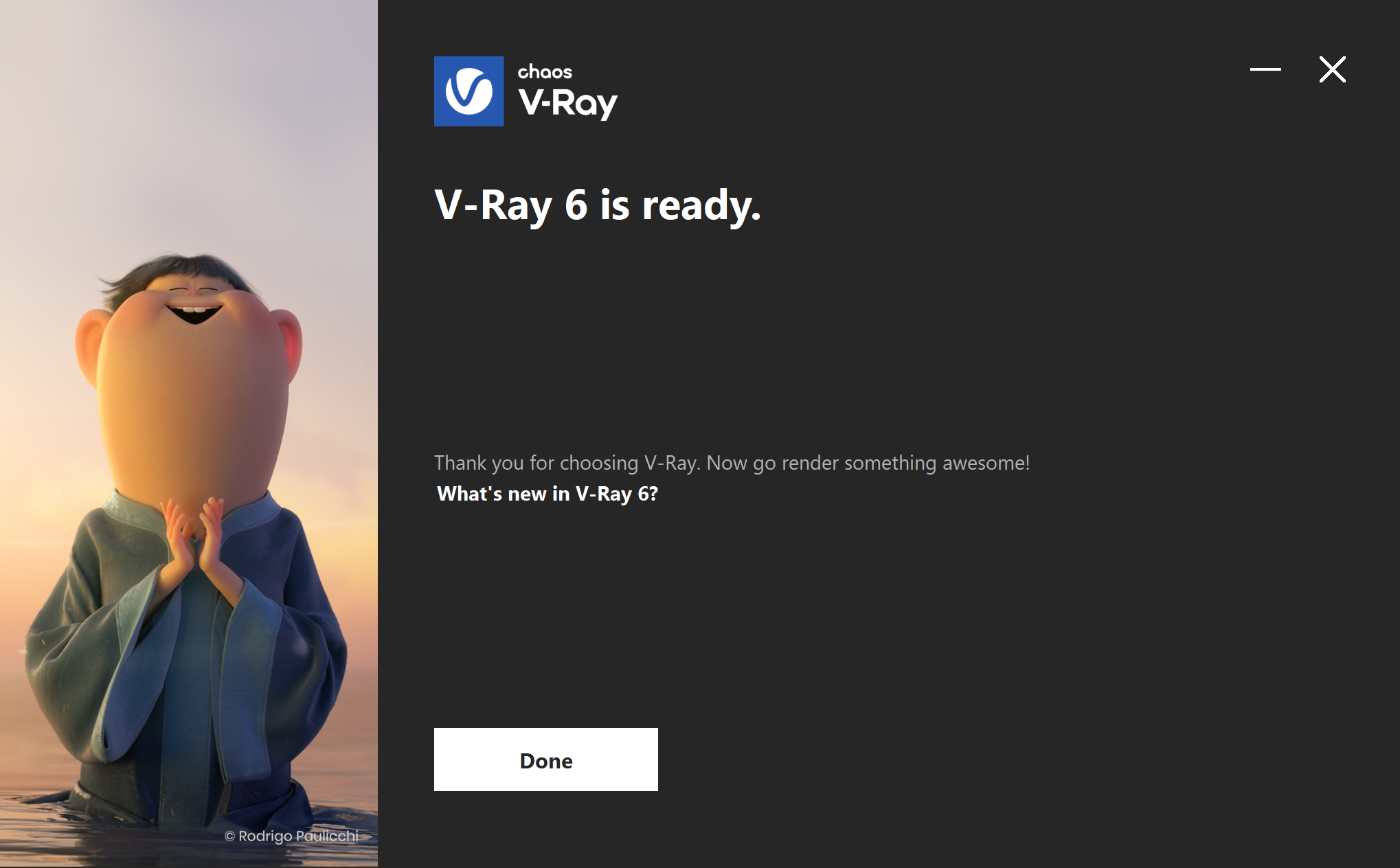 3. Now V-Ray 6 is ready to render! 
Activate the License Server
---
To activate your V-Ray PLE for Maya license, you need to enable online licensing with your Chaos account.
Once the installation of the License Server is done, you are directed to the License Server local host (127.0.0.1:30304) in order to sign in and activate it.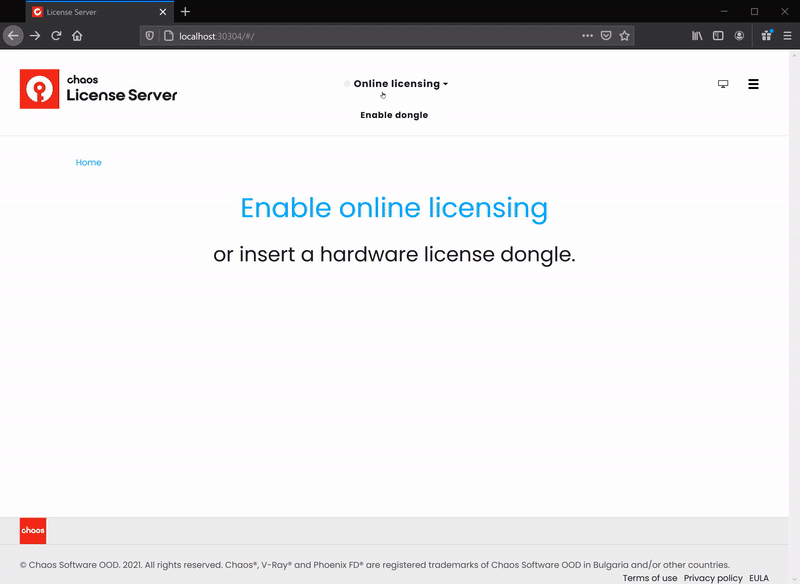 Your License Server and V-Ray PLE for Maya license are now active.