This page provides information about the AB Wipe frature.
Overview
---
A/B wipes are very useful when tech-checking animation output. It can be used during playback or for still images.
Use the grid left of the layer stack to set which layer is assigned the A, B, C or D letters.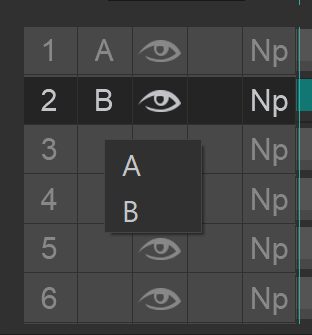 Then enabling the 

 icon toggles the wipes on or off. For more information, see the video.
Options
---
You can wipe between two pictures vertically or horizontally. Additionally, comparison can be made between four images. Right click on the AB Wipe Compare button to see some context options.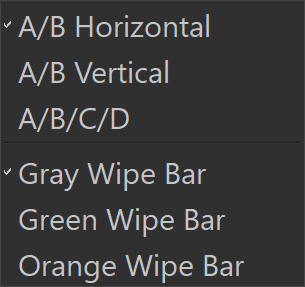 A/B Horizontal – Select two images to wipe horizontally.
A/B Vertical – Select two images to wipe vertically.
A/B/C/D – Select four images to compare.
Gray/Green/Orange Wipe Bar – Select the wipe bar color.