This page provides information on the V-Ray Render Settings that are accessible through the VRayRenderer node.
Overview
---
The VRayRenderer node contains the main settings for V-Ray and the rendering process. Settings are divided into several tabs in the Properties Panel. An additional Post Translate tab allows users to modify the scene with Python before rendering.
---
UI Path: ||Toolbar|| > V-Ray Menu icon > Render > VRayRenderer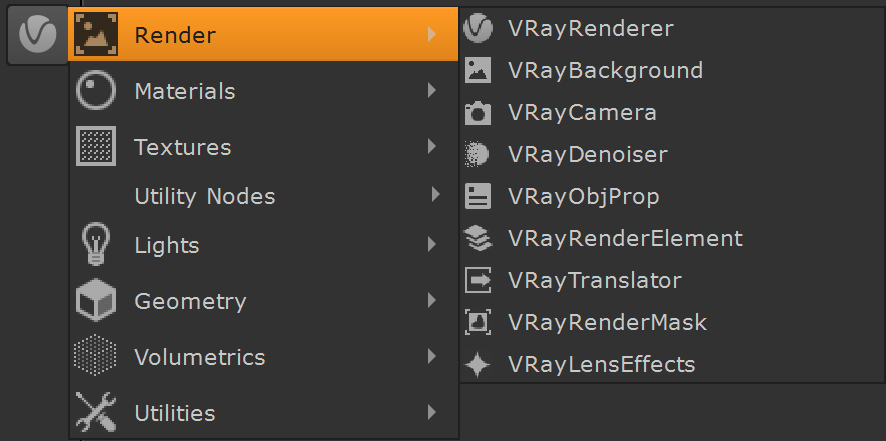 Inputs
---
 The V-RayRenderer node has three input connections.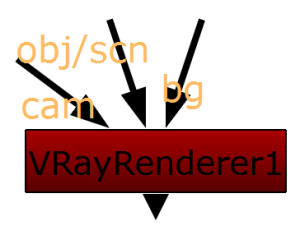 cam – An optional camera input. The scene is rendered from the perspective of this camera. If the camera input is not connected, V-Ray Renderer uses a default camera positioned at the origin and facing in the negative Z direction. Supports Nuke's default Camera node and V-Ray Camera.
bg – An optional background input. This can be used to composite a background image into the scene and to determine the output resolution. If not used, this defaults to root.format or root.proxy_format defined in the Project Settings.
obj/scn – A scene node that is connected to the objects and lights to be rendered. It can be a 3D object or MergeGeo node.
Render Settings Tabs

---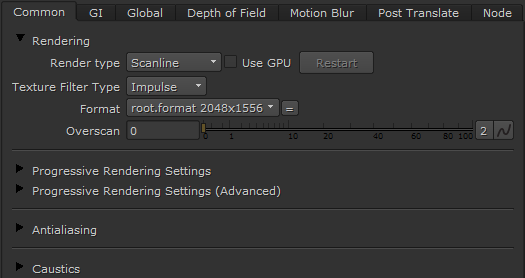 The V-Ray render settings are divided into several tabs in the Properties Panel:
Post Translate Tab

---
The Post Translate Tab allows you to modify the V-Ray scene with Python scripting. The modifications are applied after the scene is translated by the V-Ray for Nuke translator, but before it is rendered or exported to a .vrscene file. See the Post Translate with Python Scripting page for more information.