This page provides information on V-Ray Render Settings integrated in Solaris Render Settings LOP node.
Overview
---
V-Ray Render Settings are located in the V-Ray tab of the Render Settings LOP. The settings are similar to those in the V-Ray Renderer ROP. The settings become available when you create a Render Settings LOP from ||stage|| > Rendering > Render Settings.
Some of the settings are also available in Houdini's Display Options toolbar.
UI path: ||stage|| > Rendering > Render Settings > V-Ray tab
Creating and Setting Attributes
---
The parameters that correspond to a USD attribute have a pop-up menu that controls how the LOP node authors the attribute.
Set or Create – Sets the attribute to a given value, regardless of whether the attribute previously existed or not.
Set if Exists – Sets an attribute to the given value only if it previously existed. Use this option to make sure the attribute is set on primitives of the correct type.
Add if Exists – Adds an existing value to the attribute.
Multiply if Exists – Multiplies the attribute value only if previously existed.
Block – Makes the attribute appear to not exist so it takes on its default value.
Do Nothing – Does not affect the attribute, i.e. does not create or change the attribute in any way.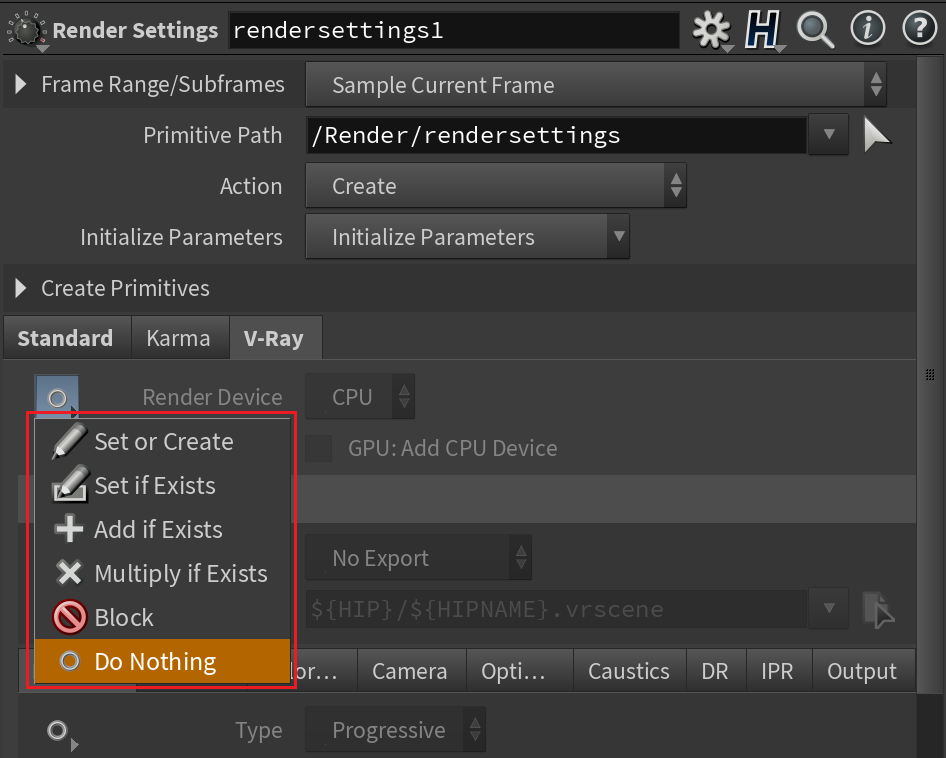 V-Ray Tabs
---
Image Sampler
The settings in this tab control the overall image sampling.
Global Illumination
The settings in this tab control global illumination.
Color Mapping
The settings in this tab apply color transformations on the final image colors.
Camera
The settings in this tab control the Physical camera.
Options
The settings in this tab globally control some geometry, lighting, material, and texture aspects of the rendering. For example, these options can be used to disable all shadows in a scene, or to use probabilistic light sampling to speed up test renders.
Caustics
The settings in this tab control the generation of the photon map.
DR
The settings in this tab control distributed rendering (a technique for distributing a single render job within a single frame across many computers in a network).
IPR
The settings in this tab control interactive rendering. If no V-Ray Render Settings node is created, the IPR settings are accessible in the Viewport settings.
Output
The settings in this tab control the output files, including deep exr images and VDB.
Viewport Settings
---
The Viewport Settings can be accessed in the Display Options toolbar, or from the Display Options: Solaris window (press D or click the
 button).
The Show Denoised Result
 toggle denoises the render in the viewport. Note that a V-Ray Denoiser render element must be present and enabled for this toggle to work.
The Headlight Creation
 toggle creates headlight if no lights are present in the scene.